« Back to CUSTOMISATIONS: Examples of "Engraving", Timbers, Catches and Linings
This particular box has been sold but a similar box can be made to order. Other configurations can also be made to order.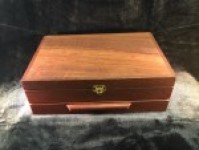 Beautiful Jarrah box with Figured Jarrah lid and tray with matching handle.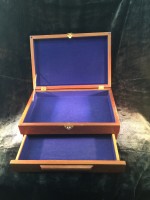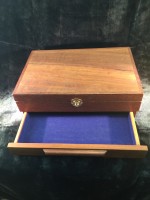 Large Jarrah Jewellery box with no divisions lined in Royal Blue velour with catch.
Suitable for large jewellery sets or numerous smaller pieces.
This is a custom made box and has no divisions. It is a lovely example of a jewellery box that will hold large jewellery sets or multiple pieces.