« Back to Examples of Designer Jewellery Boxes - Sold Previously
THIS BOX HAS BEEN SOLD. (Other boxes of similar design in other timbers can be ordered).
Wonderful timber grain in this very special Jarrah Jewellery Box
Stunning lid with Figured Jarrah grain inlaid in Sheoak beading.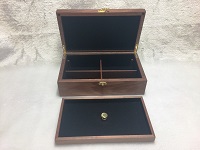 4 large divisions in main section and brass knob to remove shallow top tray.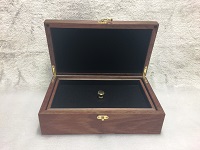 Dramatic black lining.