« Back to Examples of Classic Jewellery Boxes - Sold Previously
This Designer Jewellery Box is smaller and narrower than the Classic box. It has the standard 6 divisions in the bottom section and has been customised to have no tray but hooks and a "pocket" for chains or earings. It has lovely non-standard red lining and a particularly beautiful Queensland Walnut lid.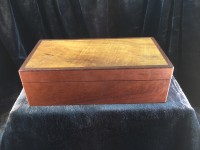 Slim and elegant Jarrah box.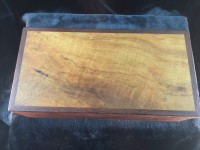 Stunning Queensland Walnut lid with fabulous grain and Jarrah beading.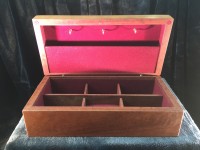 Unusual hook and pocket section for chains.
This box is as described above and is available now.