Woods of the West
Fine quality handcrafted products
Made from beautiful Western Australian Timber.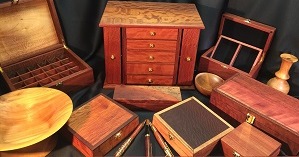 Products may be viewed in our Gallery at
24 McLarty Street, Waroona, Western Australia
Contact Les or Sue to discuss anything you see that is of interest
SCROLL DOWN AND CLICK ON THE PICTURES TO VIEW INDIVIDUAL CATEGORIES
Click on "Enquire Now" at top of each page to place an order.
Proudly Made in Australia.