« Back to CUSTOMISATIONS: Examples of "Engraving", Timbers, Catches and Linings
This is an example of a stunning box that will be a "Stand-out" item of any kitchen. Handcrafted in beautiful Jarrah, this is a functionsl box that anyone would be proud to have on their kitchen bench.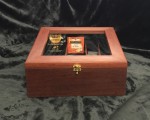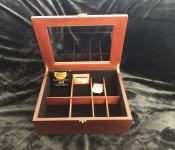 Jarrah box with divisions for tea and coffee bags. Glass lid for easy viewing of products. Brass hook and eye catch.
This box was Custom Made and is not available for sale. A similar box may be ordered and can be configured to any size and divisions to suit your individual requirements.