« Back to GALLERY OF PREVIOUSLY SOLD AND CUSTOM MADE PRODUCTS
THIS BOX HAS BEEN SOLD. (Other boxes of this design with other timbers are available).
This is a particularly stunning box with a lid with a most unusual Woody Pear grain.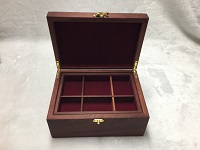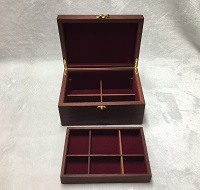 Deep base with 4 divisions and removable tray with 6 divisions
Stunning Red Lining and Brass Hook and Eye catch.