« Back to Examples of Designer Jewellery Boxes - Sold Previously
THIS BOX HAS BEEN SOLD. (Boxes of similar design in other timbers can be ordered)
This is a "Designer" box and has a solid lid which has been specially made to be unlined and display the beauty of the timber inside the lid. It is unusual to have such a beautiful two sided lid and is a wonderful example of Les craftsmanship. This box is lined in black felt and is a single box with 9 divisions and no tray or drawer.
Beautiful box with exposed timber inside lid.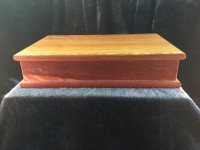 Slim and elegant.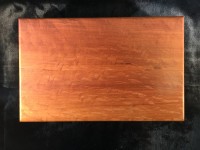 Sheoak with rich amber tones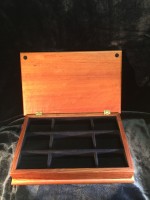 Black lining with 9 divisions.

This boxhas been sold. A similar box can be made to order in other timber, size or configurations.